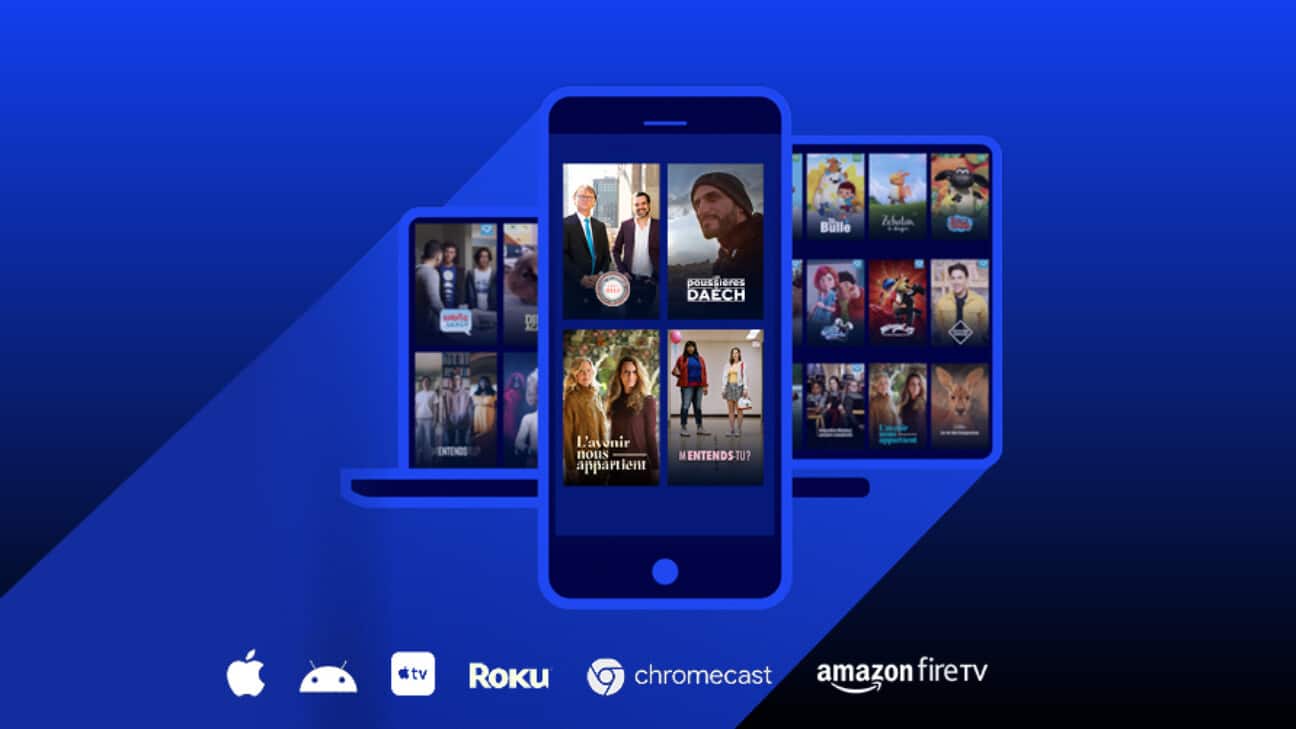 Télé-Québec content now available on all devices for free
More than 5,000 videos to binge on!
This Monday, February 1, Télé-Québec is launching a brand-new video platform and invites all Quebecers to log in and enjoy the content! On telequebec.tv or on the Télé-Québec app, everyone can watch their televised or digital content, live or on demand, on the device of their choice. And it's still 100% free!
Find out how to watch us, then discover the content of more than 5,000 French-language videos for adult and youth audiences: programs, series, films, documentaries and more.
With the arrival of this new broadcasting platform available not only on the Web, but also on all mobile devices and smart and connected TVs, Télé-Québec is consolidating efforts to make its services accessible to all consumers, wherever they are and however they watch.
Furthermore, the new Télé-Québec platform allows the Corporation to enrich its content and give users an enhanced experience with more intuitive, smoother navigation. Tots and kids, adults young and old, gourmet cooks, documentary or movie buffs, parents… now, everyone can create their personalized profile and make the most of improved features: creation of a favourites list, notifications of live broadcasts, as well as viewing transfers, which allow users to stop and start a viewing session, to change devices, and to pick up where they left off.
"The dissemination of our culture depends on the creative use of powerful digital tools. This is why I am very proud of the video platform unveiled by Télé-Québec," said Minister of Culture and Communications Nathalie Roy. "More agile and full of possibilities, this initiative, made possible by the support of the Government of Quebec, allows our public television network to actively exercise its leadership as a broadcaster of francophone cultural content — in Quebec and around the world."
"The new Télé-Québec platform is a concrete response to the gradual transfer of viewing to digital platforms. Not only will it allow us to further increase the findability of our content, which is recognized for its innovation, relevance and quality, but it will also maximize our digital footprint among citizens of all ages. This new service adds to our already impressive network, and is free for all Quebecers," said Marie Collin, president and CEO of Télé-Québec.
No matter how you watch, it's always free!
On the web: telequebec.tv
On phones and tablets: iOS (12 and over), Android (5 and over)
On connected TV (streaming media players): Chromecast, Roku, Apple TV, Amazon Fire TV. Android TV will join the list in a few weeks.
On smart TVs: Roku, Amazon Fire TV. Android TV will join the list in a few weeks and Samsung, by spring 2021.
The new platform is funded by the Government of Quebec's Digital Culture Plan.
***
About Télé-Québec
Télé-Québec is Quebec's public educational and cultural medium. A multi-platform network, Télé-Québec delivers unique programming that fosters a taste for knowledge, encourages reflection, promotes local artistic and cultural talent, and mirrors the regional realities and diversity of Quebec. Whether on the website or the app, Télé-Québec airs its video content across all devices, free of charge. In addition to a head office in Montreal, the corporation has 10 regional offices. You can follow Télé-Québec on Facebook, Twitter and Instagram, telequebec.tv
-30-
Information and interviews:
Catherine Leboeuf | Télé-Québec | 514-378-0717 | cleboeuf@telequebec.tv
Louis-Julien Dufresne | Press Officer | Department of Culture and Communications | 418 380-2310