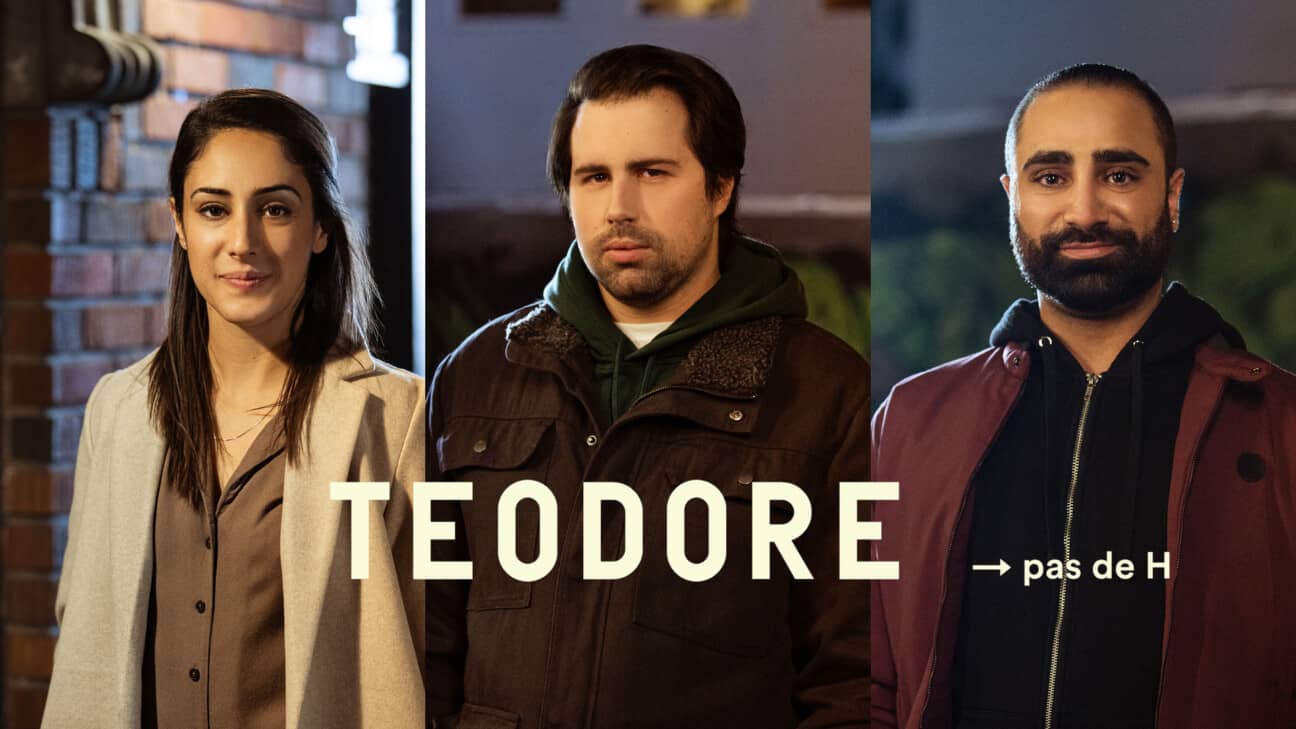 For spring, Télé-Québec delivers a fresh bouquet of Web series to Quebec viewers!
Premiering exclusively on Télé-Québec, the second season of L'arène brings us back into the world of rap battles, while Téodore pas de H reunites us with the anxious and endearing Agate, close friend of 30something, ADHD protagonist Téo. Télé-Québec is also airing Les fleuristes, a humorous and touching web series about Montreal characters from an immigrant background, with a cast that includes Said Benyoucef, Anas Hassouna and Macha Limonchik. La loi c'est la loi, meanwhile, plunges viewers into a madcap police saga, and Meilleur avant brings together an array of elements both strange and absurd. Watch them all now on telequebec.tv and on the Télé-Québec app for phones, tablets and smart or connected televisions.
L'Arène (season 2 premiere)
Frédérique (Marjorie Armstrong), having lost her seamstress job, is finding it hard to make ends meet. She gets work cleaning a gym, where she befriends a female rapper 10 years her junior named Ivy (Naya Ali). Meanwhile her ex, Arnaud, will shoulder his responsibilities and try to find out if happiness lies in a more conventional lifestyle, complete with steady job, house in the suburbs and shared custody every other week. Struggling with mounting debts, Frédérique signs up for a rap battle competition – a challenge she will find even tougher. The cast includes such well-known rappers as the fiery Souldia (who was a judge on La fin des faibles), Dramatik and, for the first time onscreen, rising rap star Naya Ali.
(Watch trailer)
Téodore pas de H (season 2 premiere)
The school year has just ended and Téodore (Philippe-Audrey Larrue-St-Jacques), diploma in hand, is looking ahead hopefully to a romantic relationship with Agate, the academic advisor he has a crush on. But things will not turn out quite the way he expects when he finds Agate tired, distracted and particularly anxious. Rather than walk away, Téo is determined to save Agate. And you know what they say about the best-laid plans…
(Watch trailer)
Les fleuristes
Walid (Anas Hassouna) is looking to make it as a stand-up comedian. His uncle Akmar (Said Benyoucef), a successful florist, plans to retire soon and is desperately seeking someone to take over his shop. Two generations, two worlds, two languages… the two men are different in every way… which doesn't bode well for cohabitation! This sitcom delves into the world of a Quebec family from an immigration background.
(Watch trailer)
La loi c'est la loi
In a Montreal overrun by drugs, street gangs and corruption, a ground-breaking new police unit is created: the SPTM, or Société de police tactique de Montréal. New recruits Éric Contant (Hugolin Chevrette) and Steeve L'Heureux (Emile Schneider) will become the squad's top enforcers. The hot-headed duo preaches the Criminal Code like Bible verses with just one aim: to track and punish. Unfortunately, our two officers of the law have more zeal than intelligence or subtlety. This punchy sitcom deals with the complexities of some very real and important social issues: sexism, racism, social inequities, etc. La loi c'est la loi uses humour to get viewers to reflect on the stakes we all face in today's society.
(Watch trailer)
Meilleur avant
Fred (Nico Racicot), 28, is finding it impossible to finalize his doctoral thesis on Nietzsche. Strapped for cash, he applies for a job as a night janitor at a grocery store – where he finds that philosophical theories won't help him navigate a very peculiar world.
(Watch trailer)
***
About Télé-Québec
Télé-Québec is Quebec's public educational and cultural medium. A multi-platform network, Télé-Québec delivers unique programming that fosters a taste for knowledge, encourages reflection, promotes local artistic and cultural talent, and mirrors the regional realities and diversity of Quebec. Whether on the website or the app, Télé-Québec airs its video content across all devices, free of charge. In addition to a head office in Montreal, the corporation has 10 regional offices. You can follow Télé-Québec on Facebook, Twitter and Instagram, telequebec.tv
-30-
To download photos from L'Arène, click here.
To download photos from Téodore pas de H, click here.
To download photos from Les fleuristes, click here.
To download photos from La loi c'est la loi, click here.
To download photos from Meilleur avant, click here.
Information and interviews:
Danielle Brassard | dbrassard@telequebec.tv | 514 619-1887